Bear Hunting Pictures - Sharp Tooth Lone Pine Pups
Bear Hunting with Sharp Tooth Hounds
Meet Mia, Tell and Copper from Vermont
Stephen Dix from Vermont will tell you and I quote "These are the best damn bear dogs in Vermont!". And that is quite a statement when you think when Stephen made this statement all of his dogs were age 2 and under. Stephen purchased 3 Sharp Tooth Lone Pine Finley River Hounds from our kennel. One female, Mia who is a Lone Pine Francis x Sharp Tooth Goliath "Cujo" female. She is just 3-1/2 years old. She was Stephen's first bear hound from us. He was so impressed with her that the next year he purchased 2 additional males, Tell who is a Sharp Tooth Lone PIne Wild Annie x Sharp Tooth's Nantan Lupan cross. He was 2 years old in May. Then he also purchased Copper, a beautiful pup out of Sharp Tooths Lone Pine Finley River Vicky x Sharp Tooth Kennels Hercules who was two in July. Tell and Copper are just amazing hounds and have taken to hunting bear amazingly fast. There's no quit in them! The bottom 4 pics of dogs shown are Stephen's Dogs just submitted to us 7/28/11 and was taken on some of this season's bears. Copper (the youngest) is shown in the middle row on the right, Mia bottom row 1st 2 pics and Tell on the bottom row on the right. Updated Pics of Tell and Copper from Stephen Dix sent to us 7/20/12. Dogs are doing great and getting primed up for this year's hunting season! They've grown up real nice! Stephen submitted the Bear pics and the bottom 2 rows of pics. Shown are Mia (black headed pup) Tell (opened backed pup, and Copper (red headed blanketback pup.
Updated 9/10/12 - Stephen's dog, Tell, (middle dog on bottom row of 3 pics) has become quite the Rig dog and has run at least one of the 3 treed and shot so far by himself. He is doing a grand job training young dogs as well and Stephen said one of the tracks he ran was an incredible track picking up and running a track on some bear scat that was 12-15 hrs old and running it to completion (treeing the bear of course!). His grandfather was along for the chase and said that that 2-1/2 yr old dog ran that track like a mature 6 yr old bear dog would have done. He was amazed at the nose on these dogs. Tell is a fine example of our Lone Pine Finley River bred hounds.
Per Stephen 9/24/12, Tell has put up 19 bears and has treed a total of 4 completely by himself. A phenomonal amount of bears to run in Southern Vermont and by a 2-1/2 year old hound.
UPDATE from Stephen Dix. Copper who is a 2 year dog out of our Lone Pine Vicky x Sharp Tooth Kennels Hercules was seriously injured by a bear on Saturday, Sept 22. The amazing part of this is that although Copper had the front part of his jaw broken and pulled apart, He got away when Stephen caught him to take him back and ran the bear an additional 3 miles before they were able to catch him again, not only did he chase him but led the pack. This shows the tenecity as well as the grit of this line of hounds. Update 7/24 Copper has been treated by the vet which included having his jaw wired back together among other things. We all have the greatest hope for Stephen that Copper will recover fully to run his bears next year.
I would also like to point out the the mother of Copper is Lone Pine Vicky who is a full littermate sister to Lone Pine Bear who is the sire of the pups that Bruce Myers (below) is running. This has been a real fine cross of hounds.
Bruce Myers Pups
Just received a call from Bruce Myers 11/2016 about his Ellie Mae x Hercules 11 month old pup. NOTE: Bruce Myers from NJ had very very good things to say about his pup 11/12/16 in a phone conversation. He also got a pup out of that 12/24/15 litter of Ellie May & Hercules. He had him running Bear in Maine this year with his pack and said this pup did a great job. Started and finished several races. Says he should really make a nice hound. Here is a pic of this nice houndl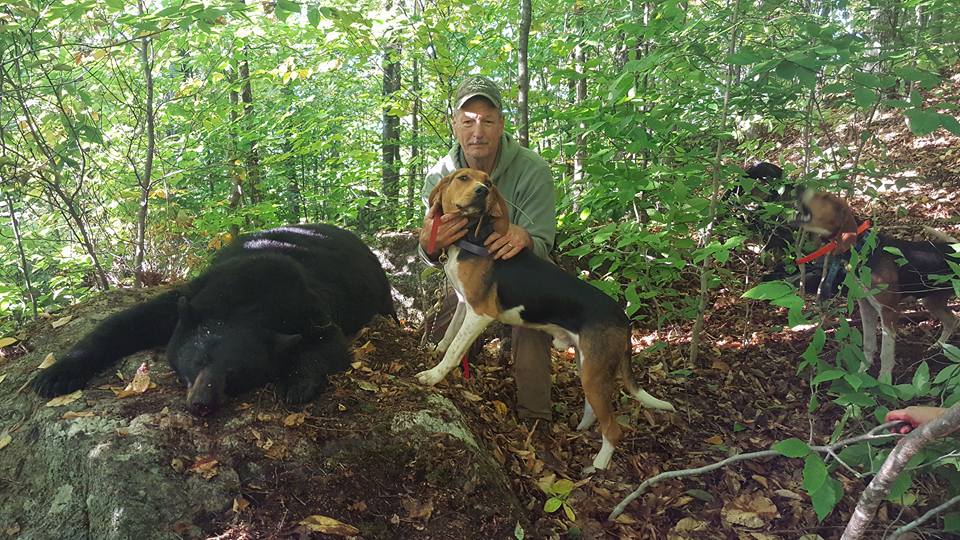 I received a call from Bruce in late May of this year. He is extremely happy with the three pups he purchased from us, two of the pups referenced below
last year, one of which went for additional bear training down south. the gentleman who trained the pup told Bruce he trains about 60 pups a year, out of the 60 he would actually buy one, maybe two. He would definately purchase this pup and wanted to know if Bruce would sell him to him. Bruce said the male pup he purchased from us out of One eye x Lone pine Bear was even better than that pup and he is just a year old. He is excited to see what he will do this bear season. So are we Bruce! Keep us posted!
A great testimonial from Bruce posted on the UKC Message Forum 1/1/13 regarding his pups is as follows.
-Sharptooth pups
I purchased two pups last year out of Sharptooth Bear.
They were two of the best pups I have ever raised, and I have raised a lot of pups. They were nine months old at the start of the 2012 bear training season. I sent one to Virginia with a friend to hunt him for me and I hunted one. By the end of the season he had been on a total of 35 bears between training season and kill season. He was put in at the start and packed in on several occasions. That pup never quit one race. He treed as good as any of the older dogs as well as stayed with the mean ones on the ground. I have never had a pup under a year old do that well. My buddy John who was hunting his brother said he was doing just as well and was responsible for strightening out one track that the old dogs took backwards, he tried to buy him that night. Steve and Levina were great people to deal with. I have one other pup from them that is now six months old and he is doing a great, i had a man from WV. offer me a Thousand dollars for him. They raise some nice pups, get one if you can. If you look on there web sight you can see my pups treeing and grabbing some bears.
Read about Bruce Myers pups - they are the two great Sharp Tooth Pups out of Lone Pine Bear on their first bear hunt in Maine. (top two dog pics in the block of pictures below)
These two pups are out of our own CH Lone Pine Bear htx and Everhart's Patty (out of our own Gooseneck's Anne) are only 8 month old as of 7/5 and are doing terrific states owner, Bruce Myers of New Jersey. Bruce recently submitted these pictures taken on a bear hunt in Maine. Bruce can't say enough nice things about these pups and already purchased another pup out of Bear. Bear is proving himself as a solid reproducer in the pups he has sired so far.
8/7/12 Received the following from Bruce by text, followed up by a phone call about one of the above pups.\
The bear is in a four inch pine tree that was straight the higher he went up the
more it bent over. Pup did a great job start to finish.
He phoned last night to tell us about what a great job this pup did on a bear track... that this pup ran the bear on track with a definate change over on tree, and was there treeing when they got to the tree and him. They pulled him back and knocked the bear down again, turned the pup loose again, the pup once more ran the bear on a nice run, bayed him up and then treed him again. Bruce said the pup did a real nice job.
Levena tell steve the pup lead some of the race or was right up front most It this
is the pup tree ing
Four hundred LB dogs had it bayed For about an hour i packed the pup in and he did
great

Next week we received additional text's and pics of one his pups out of Bear. At the bottom of this page you'll see rascal treeing on his second bear and doing a real nice job of it too! and also him chewing on his second bear.
Spoke with Bruce 10/2/13 - He has had a wonderful bear season in Maine so far this year...treeing at least 5 bears (that I have pics of.) so far weighing between 180-400 lb. Rascal, now a 2 year old and Jed a last year's pup out of Lone Pine One-Eye x NITECH Lone Pine Bear is doing a phenominal job in the woods. Turning out to be incredible bear hounds. He has sent a lot of new pics and I will be updating the pics soon.
Received the following information from Bruce Myers 10/7/14
Awesome bear killed by Bruce Myers Grandson in Maine - 502 lbs!!!!! WOW
11 year old packs a punch!!!! Congratulations to Steven Myers who bagged a fabulous 502 lb black bearin Maine. Steven is the grandson of Bruce Myers of NJ'. You can read more about this great kill by following this link. 3 of the hounds used on this bear is out of our own GRNITECH Lone Pine Bear. Read more about Bruce's dogs on Bear Hunt with Sharp Tooth Pups. AWESOME BEAR guys!
There are a bunch of articles on this...just google 11yr old kills 502lb bear! Here is one.
http://www.wideopenspaces.com/eleven-year-old-hunter-bags-502-pound-maine-black-bear/
9/14/13 - Received the following email from Nolan Crowther in Idaho. Nolan has purchased 3 fine pups from us, trained over the past 2 years. He currently has purchased a pup out of our Lil x Bear cross that is being trained by us. Nolan hunts bears and big cats and you can see some of his cats on our testimonial page. Here is what Noland had to say about our hounds. We were out chasing bears today had 2 of your female dogs with us today lead pack of 9 dogs all day. I love these dogs very fast and have terrific nose. We will be running males on Thursday Tracker will be going. Best dog I have ever bought. You don't find people like Steve and Levena every day. I will be purchasing another puppy next year. All three dogs are doing great could not ask for better dogs. Nolan
UPDATE 10/3/13 Tracker is one fast dog. Fred (Lil x Bear cross) better get his running shoes on if he is going to keep up with him. All in all our pack of dogs are really improving are looking forward to spring bear season with 4 sharp tooth dogs we are going to be hard to out run for any bear. Nolan
hunt. Nolan
Update on "Fred" 10/29/14 - "Steve, Fred is turning out to be the best dog I own just thought I would let you know."
Check out the Testimonial Page for pics of Nolan's Mountain Lion treed with sharp tooth pups.
Tyler Peasley, WA - 10/23/13 sent the following pics of a 1-1/2 year old pup out of Sharp Tooth Lone Pine Katie 2 x GRCH Sharp Tooth Kennels Hercules on bear. He is now gearing up for big cats
Hoss is unique in his markings...on one side almost a total blanket, the other side he is a saddle/open backed. He also has the unusual grey/silver coloring of the old old bloodline lone pine finley rivers sometimes have.
Hoss is making a real nice bear dog. See the following pics submitted by Tyler 2/28/14

Tyler also has a young pup out of Sharp Tooth's Lone Pine Loretta x Sharp tooth's Lone Pine Anubis that been working real nice in the woods on cat for such a young pup. Here is what Tyler has to say about Hoss and his other pup. I've focused my attention on Hoss to really get him ready for this bear season. I hunt alone a lot and prefer to have a smaller pack of dogs and only one youngster at a time. A good friend of mine has took the younger pup out and put him on a pile of cat tracks this winter and says he's showing a lot of promise. I think Hoss will make a real deal bear dog. He was the last dog I got caught up on that bayed bear and he was surely the hardest. He wanted to bring that bear home! Great Job Tyler...keep us posted of his progress!
Update on Hoss: Very pleased. He caught his first solo bobcat a couple days ago. Just three days after a lion got ahold of him. The first picture shows a little hole from the lion. He's relentless on the game I've put him on! Thank you
Just received from tyler 3/9/15:
Bear dogs of Omak 2:
http://youtu.be/Nh2EeWgZ5dc
Hoss is the gray walker with a red collar. First bear of the season. Some good bear dog action! Enjoy
Below are some great pics submitted by both Bruce Myers and Stephen Dix. 2 dogs on top row are Bruce Myer's dogs, the bottom 2 rows are Stephens. Great job with the photos in the woods guys!